Using The EV Simulator
Expected Value (EV) is a really important concept when completing casino offers. 
It helps us decide which offers are worth completing, allows us to prioritise the highest value offers, and accurately track our results.
If you are unfamiliar with EV, and why it is important, check out our Variance and Expected Value Guide 
In this guide, I will be going through the following points to ensure you can always calculate the EV of offers that you receive:
An EV simulator is a really useful tool. 
You enter the various details of a casino offer, such as the bonus amount, wagering requirements and game choice.
An EV simulator will run thousands of simulations to understand the different possible outcomes of an offer. 

In doing so, the simulator will produce an accurate estimate of the offer's EV. 
It can also give you valuable information, such as the bust out rate, the average time required, and the impact of using different spin sizes.
Every time that Team Casino posts an offer, we will use the EV Simulator to check  that it is +EV, and to help us decide the best approach.
We think you'll find having an EV Simulator really useful too.
It will help you to: 
How To Use The Simulator
When you load the EV Simulator, the first thing to do is select the offer type.
The simulator has 7 different modes for common offer types. 
Choose the relevant mode from the drop-down menu.
The EV Simulator will then ask for various information in order to analyse your offer. 
Once you have filled out each of the boxes, just click 'Start Simulation', and after a few seconds, your EV estimate/s will be displayed. 
To simulate an offer's EV, the EV simulator will ask for various pieces of information.
Here we explain how to quickly find the information that you need.
When considering invite offers, we should aim to use the highest RTP game possible to maximise our EV.
Blackjack, given its 99.5% RTP, should be our first choice where it is allowed.
Roulette has a 97.3% RTP, whilst the RTP of slots varies, anywhere from 80% RTP up to 98.5%. 
When selecting Blackjack or Roulette in the EV Simulator, it will automatically add in the RTP for you.
However, when you select Slots, the Simulator will ask you to input the RTP. 
Our Slots Database contains the RTP of over 1,000 slots. You can also search by casino, to find the highest RTP slots available at over 100 casinos.  
If a slot isn't listed in our database, then speak to us on live chat, and we will be happy to help.  
Alternatively, you can try to search Google for the 'slot name RTP', or search for the slot on Slot Catalog.  
When analysing free spin offers, you need to know what the value of each free spins is.  
Often these are worth 10p or 20p each, but the free spin value can range anywhere from 5p-50p per spin.
This is obviously going to have a massive impact on the EV.  
An offer might be -EV if 10p free spins, but +EV if they are worth 20p each, so it is important to check this carefully when considering an offer. 
The first thing to do is to check the offer terms and conditions.  This will often state how much any free spins are worth.  
If not, we can assume that their value is the smallest spin size that is allowed on the free spin slot.
We can check this by opening the eligible slot/s and setting it to the minimum spin size (usually 10p, 20p or 25p).  
If we have a choice of slots to use our free spins on, it is possible that we can increase our EV by finding the slot which has the highest free spin value. They may not all be the same.
When wagering bonus money on slots, the slot's variance will impact the EV.  
So the EV Simulator will ask you to select the variance level, from low to high. 
It can be difficult to know this information.  
Some slot providers rank their slot's variance, others don't. Plus, what one provider might consider high variance, another might call medium variance.
However, there are two places that you can check to get an idea of a slot's variance:
Slots Database – our database gives a variance estimate for almost 400 slots
Slot Catalog– will often give a variance estimate for slots
Slot variance is not an exact science, and its impact on EVs isn't huge, so don't worry too much about it.
If you are not sure of the variance of a slot, then we'd recommend selecting 'Medium Variance' in the Simulator. 
The EV and bust out rate (chance of losing the bonus before completing the wagering requirements) of offers with wagering requirements is impacted by the spin size that you choose to use.  
When wagering a bonus, a higher spin size typically means a higher EV, but also a higher chance of busting out. 
The EV Simulator will display the EV and bust out rate of four different spin sizes that you could use to wager your bonus money.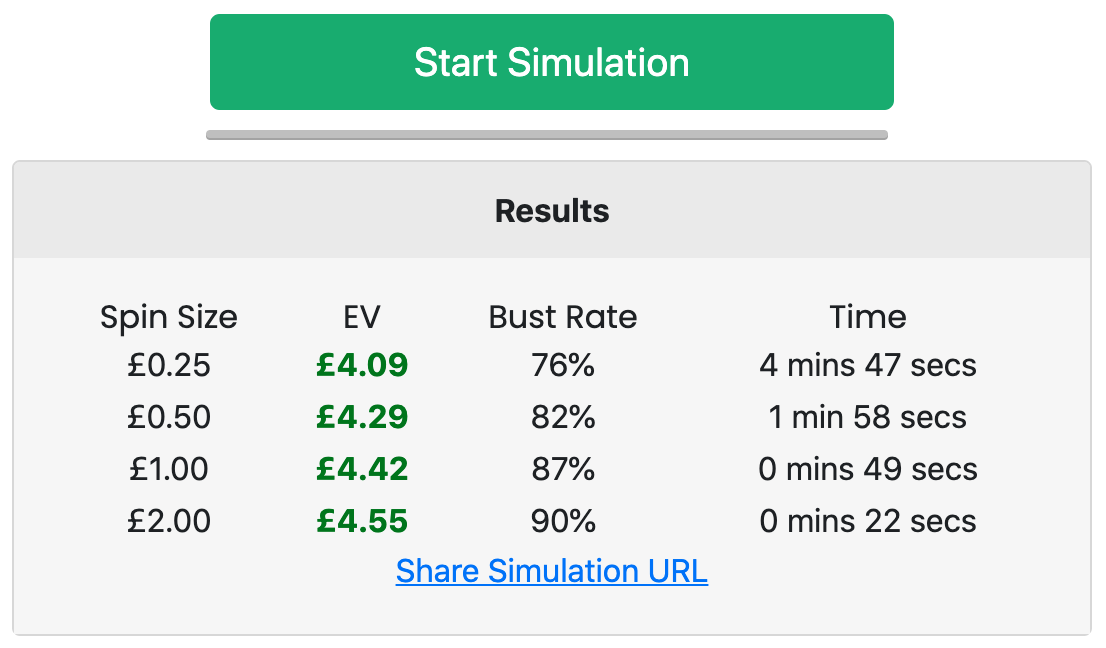 By default, this is set to 25p, 50p, £1 and £2 spins. 
However, often you'll want to use different spin sizes.  
You can quickly adjust the spin sizes from the Settings section.
Open up the settings box, and edit the spin sizes that you would like to compare.
Then click 'Start Simulation'.
You'll then see results tailored to your chosen spin sizes. 
Time Estimates
The EV Simulator will also give estimates for the average amount of time that you will need to attempt the wagering on your bonus. 
As you might expect, bonus wagering will take much longer when using 20p spins, when compared to £1 spins.  
This can be an important consideration when deciding how to approach an offer.
This time estimate is based upon the average amount of time you need to complete 1 spin on a slot or roulette or play 1 hand of blackjack. 
By default, the EV simulator is set to: 
Slots – 3 seconds per spin
Roulette – 10 seconds per spin
Blackjack – 15 seconds per hand
However, you might think that these time estimates are unrealistic for the offer you are considering.
Perhaps you are doing a slow live casino offer. If so, you can adjust the time per spin/hand from the Settings to get a more realistic time estimate.
If a casino uses cash before bonus funds, as many do, then when we attempt to wager bonus money, the casino will first use up all of our cash balance.  
It will only use our bonus balance once our cash is gone. 
If you receive an offer, the simulator might show that the offer is +EV, but if the casino uses cash before bonus, your entire cash balance could be at risk.
This would significantly increase the risk of the offer, and will strongly impact how you should approach the offer.
Make sure you have read our guide on 'How To Approach Cash First Offers. 
This will show you how to find out which casinos use cash first, and how to safely approach their offers.
The Team Casino EV Simulator does not support high-risk deposit match offers.
These are offers where you deposit a certain amount of money, in order to instantly receive a bonus. 
These use cash before bonus, and come with very large wagering requirements. 
These offers are only suitable for those who are very experienced with casino offers, who have built up very large bankrolls.
You may have come across basic EV calculators before.
Using a basic EV calculator doesn't work for offers with wagering requirements.  
It will give very low, and often, minus EV values for these offers.
An EV calculator assumes that we always complete the entire wagering requirements on a bonus. 
So if you had a £20 bonus, with 30x wagering, it assumes that we complete £600 of wagering every single time. 
That would mean losing a lot of EV to the game's house edge, so we get a really low EV estimate for the offer.
However, you'll know that we do not complete the entire wagering requirements for every bonus.
In fact, the vast majority of the time, we'll bust out before completing the wagering requirements. 
Therefore, the average amount of wagering completed is lower than the calculator assumes.  This means our EV loss to the house edge is much lower.
So the true EV of an offer with wagering requirements will be much higher than the EV calculator predicts. 
For this reason, we need an EV simulator.  
We've Got Your Back.
As always, if you have any questions whatsoever, please don't hesitate to contact us!
We've Got Your Back.
As always, if you have any questions whatsoever, please don't hesitate to contact us!